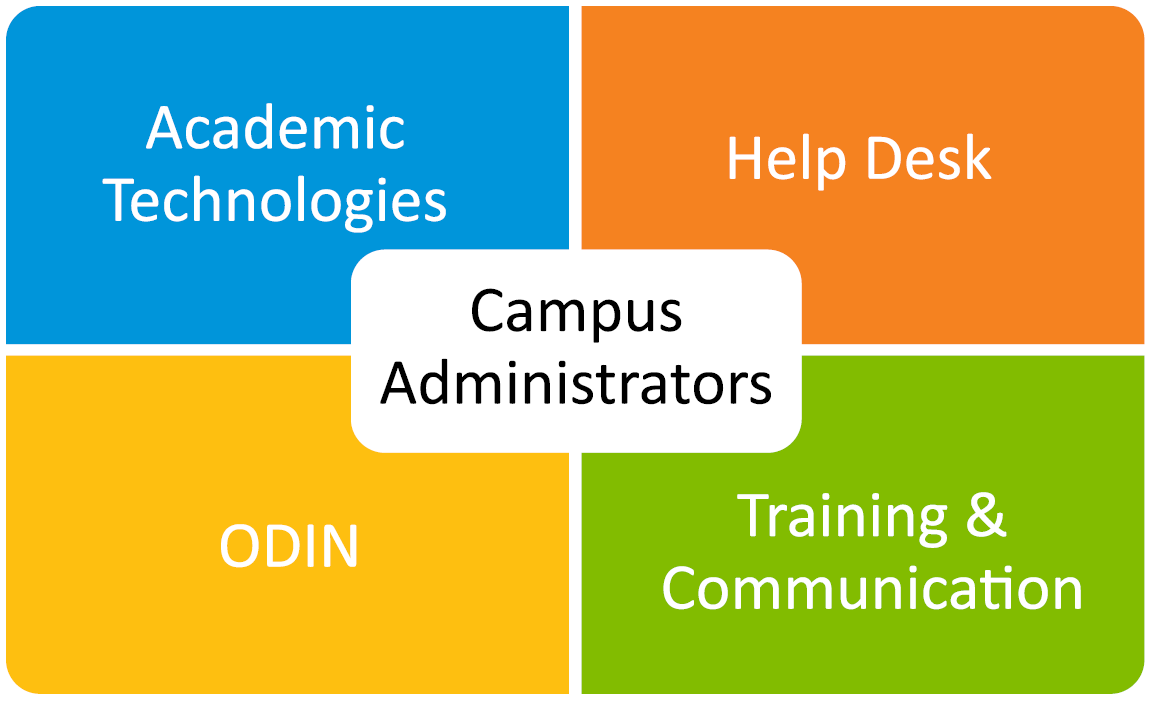 Academic Services and Training (AST) provides leadership in current and emerging technologies that expand and enhance teaching and learning across the North Dakota University System. AST works with the institutions of the NDUS to develop and deliver enterprise-level academic systems, help desk support services, library services, and relevant training and communication support. By working closely with the institutions, we collectively and collaboratively expand the capacity of online learning programs, collaborative learning environments, resources that supplement student education, and more.
In broad terms, the AST service line breaks into four quadrants:
Quadrant One: Academic Technologies
AST supports an array of learning technologies that institutions use in support of both the online, distance learning experience as well as the face- to-face classroom experience. These technologies fill the three primary areas of academic tools, the learning management ecosystem, and productivity.
Quadrant Two: Help Desk
AST provides Tier 0, Tier 1 and Tier 2 help desk services for the North Dakota University System. Supported systems and applications include:
NDUS Account IDs and passwords
Password changes
ConnectND applications, including Campus Solution/Campus Connection, Financials, and HRMS
Bb Learn
Bb Collaborate Ultra
Skype for Business
SharePoint
Office 365
'How To' support for Exchange Email and Calendar

Quadrant Three: ODIN
The ODIN (Online Dakota Information Network) central office provides library support services, authentication, training and expertise to 60 member libraries across North Dakota, including all libraries within North Dakota University System institutions. Member libraries are further disbursed across North Dakota at private higher education institutions; K-12 schools; local public libraries; and special libraries. ODIN is committed to ensuring long-range planning, enough financial resources and maintenance needs are met and carried out according to consortium goals and in the interests of the ND University system.
Academic library patrons use a discovery interface called PRIMO, which is connected to a library management service called ALEPH and a link resolver called SFX. Working in unison, this service searches for both print and electronic library materials while also providing management functions like circulation control, course reserves, acquisitions and serials control, and an interlibrary loan function. NDSU uses a library services platform called ALMA and includes a built-in link resolver/discovery interface called PrimoVE.  All ODIN academic member libraries will transition to a network-based Alma/PrimoVE platform on July 29, 2020.
Public, K-12 and special member libraries transitioned in Dec 2019 to a library management services system called Polaris.  The Polaris system provides management functions like circulation control, acquisitions, serials and resource sharing.
The ODIN consortium uses innovative technology to ensure resources are used effectively and focuses its mission on ensuring services are library centric.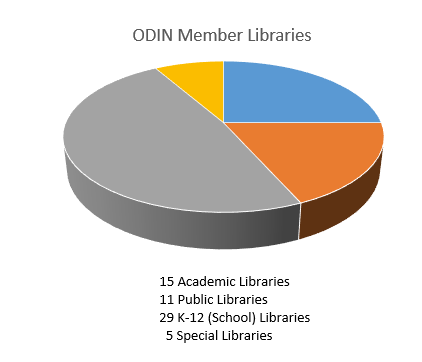 Quadrant Four: Training & Communication
The AST Training and Communication quadrant consists of a mix of identifiable tools and services along with consulting and solutions that are reactionary in nature to emerging issues within the IT and NDUS Environment.